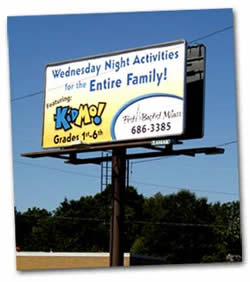 For several years our church children's ministry was in decline. Then we found KIDMO! God has used this resource to transform our ministry. Attendance has nearly tripled in the last 18 months. Even our fifth grade boys now beg to lead the worship. Thanks to the creativity and energy of KIDMO our kids are learning to apply biblical truth to their everyday lives.

Greg and Renee Carper
Carmel Presbyterian Church-Carmel, CA

Click here to read Greg Carper's current article in Religious Product News "Jesus On The Big Screen "
---
KIDMO has brought a new vibrant and alive perspective for teaching foundational concepts to our kids and is providing the building blocks for strong spiritual development. Johnny Rogers' crazy spunk has thrilled their minds and the catchy tunes, actions and phrases spark a desire for wanting more of God in the hearts of all who participate. Even the adults!
Heather Glidden
First Free Church-Rockford, IL
---
Since discovering KIDMO our attendance has tripled-and we have no more complaining kids! We also have many stories of kids getting their parents up for church, running from the car to be in class, and visitors who have told their parents this is where they want to come to church! If that isn't enough our volunteers are thrilled to not be overloaded with preparation so they can focus on making relational connects. We can't wait to start Lil' K with our preschoolers!
Beth Wilkes
Orange Park Presbyterian Church-Orange Park, FL
---
KIDMO is not just about teaching and informing, but helping to make world-changing disciples. Our kids are going out with confidence into their neighborhoods and schools.
Scott Dobson
Church of the Open Door-Glendora, CA
---
We started using KIDMO about a year ago and love it. I was hesitant at first, but after God began speaking to me committed to give it a try. What blew me away is that kids we have never been able to engage before are finally connecting!
Amanda Marshall
Centerpointe Community Church-Orlando, FL
---
In the BLITZ series, kids were asked to give up something for one week (i.e. Gameboy) in order to focus more time with God. The following week we had parents telling us stories of kids not only doing it, but being excited about it. Now our kids are teaching other kids.
Tammy Grebel
Victory Valley Christian Church-Hesperia, CA
---
This is a note from a church planter in Olive Branch, Mississippi. They are a few years old and struggling with kids. But sounds like you helped them out.
Hal Mayer, Pastor
Church At The Bay-Tampa, Florida
Hey Hal,

Thanks for the tip about "KIDMO!" It has revolutionized our kid's ministry and God has shown us grace...we just hired our first children's pastor!

You were right,

Trevor Davis, Pastor
Great Commission Church-Olive Branch, MS
---
My husband and I visited with the KIDMO team at the conference in Kansas City a few months ago and came back so excited! We are a small new church with kids that range in age from 5 to 13. All the kids take part of KIDMO even though some are younger or older than it is intended. They ALL love it!!!!
I just wanted to let you know that one of our 5 year olds accepted Christ through the KIDMO program. We are on the series that covered the ADMIT, ASK, ACCEPT lesson that had the MAP book to send home with the kids. She took that home and asked her mom about it and was saved! We are so excited! This just shows that all the kids can participate and learn from the wonderful messages of KIDMO and the Gospel!
The KIDMO team gave us a shirt with everyone's signature and we are working on getting it framed along with the wonderful card from all of you to put on our wall. Our kids LOVE Johnny Rogers, KIDMO and the music!!!
Thanks for the wonderful program that you offer!
Frances Brown
Koinonia-Harrison, AR
---
We have a van ministry that picks up children from a very run down trailer park. Their families do not go to church. These kids do especially well with the KIDMO format.
One little boy and his sisters had it very rough at home. We did as much as we could to make sure that they had clothes, heat and food. He came to know Christ as his Savior through KIDMO and I was able to visit with his mom and dad to get permission for him to be baptized. His parents never showed up for his special day but our church made a big celebration for him. I could not understand their absence. Anyway, the following week he and his sisters ended up in the middle of a huge drug bust at their trailer park. They were taken into CPS custody. Our whole children's ministry team was heartbroken. I went to visit the mom in prison and I was her only visitor. She said that she couldn't believe that I cared about her.
When she was released two weeks later, she and her husband were in church rededicating their lives. She signed papers that allow me to be involved in all that takes place with the boy and his sisters. They have been placed in a loving home and this precious boy is now busy trying to convince his new family to come to our church and know Jesus. His faith has been a rock for not only himself but his younger sisters as well.
Keep up the transformation!
Lynda Dahlstrom
Chisholm Trail Baptist Church-Rhome, TX
---
We love KIDMO! We used Willow Creek for 6 years and this is the best our program has ever been. We can't wait for Lil' K. We are going to change to that curriculum in our pre-school.
Jamie Reese
Riverside
---
We would like to thank you for all your wonderful themes and great material. Our kids have really loved DRIVE and we had a lot of fun taking our pictures with Johnny. I've attached just a few of them for you to see.
So thanks again Team KIDMO for all your hard work and dedication to sharing God's truth with children. Keep it up!
Barbara Ellis
North County Christ the King, Lynden WA
---
Just wanted to let you know about our KIDMO experience. We started our first Children's worship in August of this year. Our ministry team decided to use your KIDMO curriculum. At first I was not sure, it was a little more "out there" than what we are used to, but the experience has been wonderful! Our children are really enjoying worship! It is so easy to use that our staff is able to concentrate on relationships with kids instead of extensive planning. Our parents are commenting on how excited their children are to come to church and are always inviting their friends to come also. We hope that one day we will be designing our own programming but for know you have been a huge blessing for us. We have been able to provide a program that is more advanced long before we anticipated. Thank you for your ministry!
Tammy McClure
Burnt Hickory Baptist Church-Marietta, GA